Caren Garfen interview: The need to spread my wings – TextileArtist.org
See on Scoop.it – BA FMP Research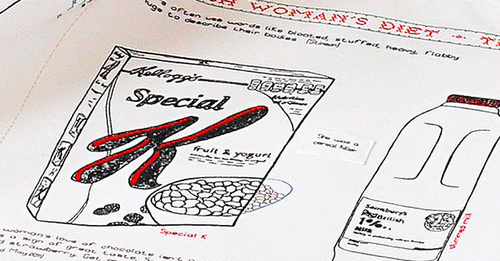 Prior to becoming a contemporary textile artist, Caren worked hand stitching traditional samplers for dolls houses. She now specialises in fine textile art.
Rebecca Woodworth's insight:
Caren Garfen creates textile work inspired by issues that affect women today and is interested in tyhe way women have lived in the past compared to now.  She says once she has decided on her topic she researches it leaving no stone unturned.  I think her work then follows a pattern ie tile, planning, drawing, pattern, print, stitch and construction.
Unfortunately I don't work best when working in such a structured way, an organic approach is usually best for me.  However I can see that a certain amount of planning is important when your artwork contains print and stitch.
See on www.textileartist.org