artconnections | profile
See on Scoop.it – Research Project for FMP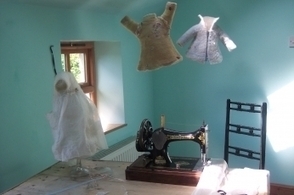 Artist Profile: Annette Jeffery
Cloth has had a profound influence on our personal social, and cultural life and it is to this complex relationshithat I turn for inspiration in my work. It is a tactile material for which we have strong, intimate, physical and emotional connections. These experiences happen at a deeply human level and have been felt since man first fashioned clothing. It would seem that we have a tender and dependent relationship on this ancient material as it can produce unique pesonal memories stretching back to our first shawl or coverlet to the shroud we will wear in death, it comforts and shields us from all weathers. So close is this bond that the feel or smell of a particular personal item of clothing or kind of cloth carries memories which are stornger than any photograph may evoke and can remind us of a particular time, place or person. A well worn jacket echoes the contours of the owner's body; a glove takes on the shape of the hand that wore it: a carefully folded hankerchief found in a drawer will speak intimately of its owner.
This intimacy I hope is reflected in my felted heads which I believe give a bold and powerful presence.
I am constantly discovering new ways to produce fabric sculpture .
See on www.art-connections.org.uk