Jennifer Rochester
See on Scoop.it – Specialist Project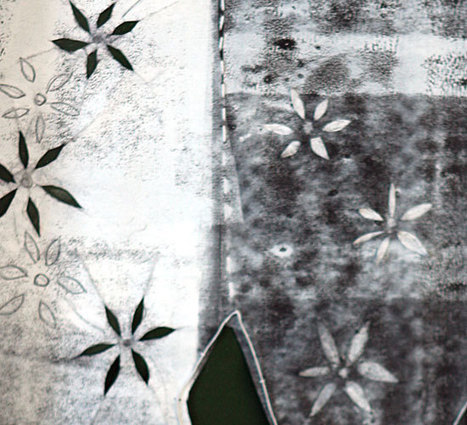 This artists has incorporated some her childhood memories into this work but also been inspired by some Victorian sleeves.  I like how these sleeves seem to resemble the pieces of embroidery I inked up and put through the press to gain an impression on paper.  They almost look like an x-ray!
See on www.edge-textileartists-scotland.com
I did some rough embroidery stitches on calico, inked it up and put it through a press.  This is an image of the inked up fabric.  The monochrome graininess is quite ghostlike in appearance and reminds me of Jennifer Rochester's work on a sleeve.
Here is an image of the same piece of fabric with the stitches removed.   It is so evocative of a time that has gone past but has left its impression for ever.  I would definitely like to try and adapt this into my work.
This is the first impression, quite dark but you just about see the little flower I stitched on the scrap of fabric.  That detail is lost on the fabric with the stitches removed.  Subsequent impressions give lighter images with more detail.